What Chance Twins?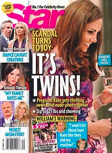 You are going to listen to short talk about the connection between
morning sickness
and
twins.
Morning sickness is a condition common in the early months of pregnancy.

Remember there are two types of twins:
identical
&
non identical/fraternal

Can you guess the percentage of twins amongst all births in the UK?
a) 0.5 b) 1.5 c) 2.5 d) 0.25

Now listen to this BBC discussion on the link between two experts on the BBC radio programme
More or Less
Quick Check: Answers
1. yes 2. No (or not known) 3. No (or not known)
4. Yes (members of her extended family are twins 5. No (the word 'identical' is there to confuse.